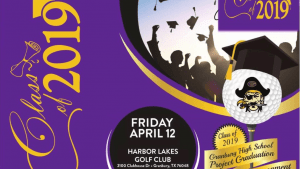 Granbury High School Project Graduation will be holding one of their many fundraisers for the year on Friday April 12th. The GHS Project Graduation Golf Tournament will be taking place at Harbor Lakes Golf Club in Granbury. "This will be a fun event, that raises funds for this years Project Graduation, and we are so happy to have many teams and business sponsors who are participating and supporting the GHS Senior Class of 2019 this year" says Janie Chiles who is part of the GHS Project Graduation team.  The event is a 4 player scramble, with sign in at 12:30pm, and a shotgun start at 1pm. Green fees, cart and Taco Bar after play is included. The goal is 20 teams, and as of Monday 4/8, there were still team openings.
Chiles adds, "that there are still spots open for 4 person teams….and if you don't have a team they will be happy to match you up with other individuals to form a team." Interested golfers can get more info by emailing ghsprojectgrad2019@gmail.com, or call 817-578-0128, or check out the information on Facebook at  GHS Project Graduation 2019.
95.3 K-HITS will be broadcasting "live" at the beginning of the event with chances to win prizes and send the golfers on their way for a great day in supporting GHS Project Graduation 2019!