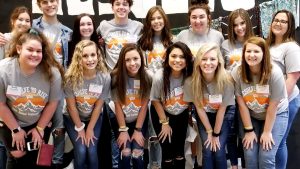 Granbury High School student council members earned sweepstakes honors at the Texas Association of Student Council's 83rd Annual High School State Conference on April 14-16, 2019, at the Arlington Convention Center.
In addition to the sweepstakes requisition, the GHS contingent also picked up an award for Outstanding Student Council. This marks the third year in a row.
StuCo members spearhead projects in the areas of community service; drug, alcohol, safety, and health; energy and environment; and pride and patriotism.  The state organization is sponsored by the Texas Association of Secondary School Principals.
This year's theme was "Resolve to Rise," a statewide project focused on mental health awareness.  The GHS organization supported this though holding a canned food drive, donating toiletries to a mental health facility, spreading positive notes around campus and the community, and educating classmates on mental health and ways to assist others who are struggling.  The group also highlighted Suicide Prevention Week.
The GHS student leaders also hold three blood drives each school year and sponsor teacher appreciation projects.  The group is also planning a Kindness Week later in April.  In all, the council raised over $20,000 in donated goods and contributions and amassed over 1500 service hours.
Pictured above at the TASC convention are (left to right):  back – Marley Fox, Jackson Martin, Sierra Mark, Brock Holmgreen, Taylor Hammonds, Whitney Carrol, Autumn McKee, Dayna Sklark; front – Bella Castillo, Emma Grace Brown, Reese Holmgreen, Judith Monzon, Shayley Teeter, Miranda Hall.