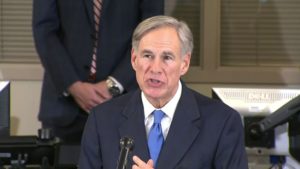 5-18-2020
Texas has entered Phase 2 of Gov. Greg Abbott's expansion and reopening of businesses across the state. In a news conference at the Texas Capitol on Monday afternoon, Abbott announced that more Texas businesses will be allowed to either reopen or open at larger capacity. Businesses that will be able to reopen immediately include child care facilities, massage parlors, and youth clubs like the Boy Scouts or Girl Scouts.
On Friday, May 22, several other businesses will be able to open at 25% capacity, including bars, bowling alleys, bingo halls, and aquariums. On May 29, zoos will reopen, also at 25% capacity. Restaurants will be able to expand to 50% capacity.
On May 31, youth sports and professional sports can resume in Texas. Professional sports will not be able to have fans. Youth sports can have one parent watch, but they must follow social distancing rules. More specifically, youth sports can start practice on May 31 and games on June 15.
June 15
Youth sports

 – games can resume. One parent can attend and must practice social distancing.
June 1
Summer school

, including in-school instruction, in-person programs, and virtual programs that require teachers to be use school facilities. In-person schooling must be optional for students.
May 31
Professional sports

 – no fans allowed. Leagues must submit requests for approval to the Department of State Health Services

Youth sports

 – practicing can resume. One parent can attend and must practice social distancing.
May 29
Graduation

 – outdoor, in-person ceremonies may take place in any county. From May 15 to May 29, in-person graduations may only take place in a rural county with fewer than six COVID-19 cases as described in the Governor's Report on April 27. Virtual and vehicle-based ceremonies are currently allowed statewide.
May 22
Reopened May 18
Allowed to reopen prior to May 18
Dentists

Doctor's offices

Malls

 – food courts, play areas and interactive displays must remain closed

Outdoor sports

 with no more than four people